July 9th, 2010
REACTIONS TO OD&D: TURNS, ROUNDS, AND SEGMENTS -- OH MY!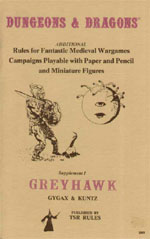 Last year I began a series of posts regarding my reactions to the original 1974 edition of Dungeons & Dragons. Recently a post on Delta's D&D Hotspot tweaked me to comment on one of the issues I didn't discuss in the original series: The timekeeping and movement rules.
Here's the most pertinent passage from Volume 3: Underworld & Wilderness Adventures:
THE MOVE/TURN IN THE UNDERWORLD:
In the underworld all distances are in feet, so wherever distances are given in inches convert them to tens of feet.
Movement (distances given in Vol. 1) is in segments of approximately ten minutes. Thus it takes ten minutes to move about two moves -- 120 feet for a fully-armored character. Two moves constitute a turn, except in flight/pursuit situations where the moves/turn will be doubled (and no mapping allowed).
[...]
Melee is fast and furious. There are ten rounds of combat per turn.
I have now introduced close to two dozen people to the OD&D rules. This almost always involves walking them through the major cruxes of the rules, but even in cases where a more rapid acclimation is called for, I still make a point of reading this passage to them: That way they can fully appreciate the archaeological reconstruction of the rulebooks necessary to actually play this game.
What can we conclude from this passage?
2 moves = 4 flight/pursuit moves = 1 turn = 1 segment = 10 rounds = 10 minutes
The fact that "turn" and "segment" are used interchangeably is somewhat confusing, but what makes the passage really tricky is that they actually aren't used interchangeably. If you can move the "distance given in Vol. 1" in one segment of 10 minutes, what does it mean that you can also make two moves in a turn of 10 minutes?
Making this even more confusing is the phrase "120 feet for a fully-armored character". The phrase "fully-armored" means absolutely nothing in the context of the rules and the default speed for a character is 12" = 120 feet. So if you interpret that passage to mean that a character with a 12" movement moves 120 feet in two moves that take 1 turn, then it follows that a "move" (in the context of this passage, anyway) actually equals 1/2 the character's speed. Which would mean that:
1 move = 1 segment = 0.5 turns
But that's probably not what it means. What "fully-armored" probably means is the "speed of an Armored Footman (6"/turn) which is referenced as part of an example in Volume 1. (Which is not, actually, the speed of a character fully-armored character unless they're also carrying a bunch of other equipment. Unless, of course, you decide to interpret this example as a new rule that actually implies that armor alone -- separate from weight carried -- can affect the speed of a character.).
But that still doesn't clear up how:
1 segment = 1 move = 10 minutes
and
1 turn = 2 moves = 10 minutes
Can both be true. (They obviously can't.)
MOVE TURNS vs. MELEE TURNS
But we're not done yet.
Although the title of this section as it appears on page 8 of Volume 3 is THE MOVE/TURN IN THE UNDERWORLD, on the table of contents for this volume it appears as "The Move Turn in the Underworld".
This separate coining of the phrase "move turn" could probably be safely ignored, if it wasn't for Supplement 1: Greyhawk. In this supplement, Gygax casually introduces the term "melee turn". For example, on page 6 the duration of the Monster Summoning I spell is listed as: "Duration: 6 melee turns".
Furthrmore, on page 18 of Supplement 1, giant snakes are given damage of "2-8/turn of constriction". The use of the term "turn" here can't possibly mean 10 minutes, can it?
TURNS vs. FULL TURNS
And then we come to Supplement 2: Blackmoor, which was written by Dave Arneson. On page 1, in describing the abilities of monks, he writes: "...has a 75% chance of stunning the opponent for from 3-12 turns". Much like the giant snake from Supplement 1, it seems unlikely that Arneson means that the monk can stun opponents for 30 to 120 minutes.
And this suspicion seems confirmed when, on the next page, he writes that 5th level monks can "perfectly simulate death" for a duration of time equal to "a six sided die x level for the number of full turns".
Should we interpret "full turn" to mean something different than "turn" from the previous page? Context certainly seems to suggest it.
It's therefore tempting, I think, to suggest that Arneson was using "turn vs. full turn" in the same sense that Gygax was using "round vs. turn" or "melee turn vs. move turn".
If this were actually the case, it would go a long way towards explaining why this terminology is so hopelessly confused in OD&D: You had at least two different authors using the term "turn" with at least two completely inverted meanings.
Perhaps the central crux can be found when we hit Arneson's description of the giant squid (page16): "Squids tire easily; there is a 50% chance that they will withdraw after three rounds of melee, with a 5% increase each turn thereafter."
Here Arneson displays knowledge of the term "round", but does his use of the term "turn" in immediate juxtaposition indicate that he's using the terms interchangeably? To my eyes it seems almost certain, but perhaps others would disagree.
NO METHOD IN THE MADNESS
But perhaps I'm simply trying to impose rationality onto something which is fundamentally irrational. There's certainly a fair degree of evidence that Arneson and Gygax simply used the term "turn" to mean whatever the hell they felt like it should mean. For example, on page 43 of Blackmoor:
There is a 1 in 6 chance that when entering passages marked with a dashed line or when crossing one of the bridges that 1-3 trolls will be encountered. Any fighting will bring an additional 1-3 trolls every turn the fight exists.
Arneson surely can't have meant that 1d3 new trolls should endlessly show up every single round, right? There's no way such a combat could ever end.
Similarly, on page 18 of Volume 3 we can read as part of the rules for large party movement:
Turn

: Each move will constitute one day. Each day is considered a turn.
Which is, at the very least, suggestive that they considered "turn" to be a useful catch-all phrase and that its proper meaning is supposed to be intuited from context. (For another example of the same, consider dungeon levels, character levels, and spell levels.)
And all of this analysis ignores that neither Gygax nor Arneson were the sole authors contributing to the supplements.
HOW I PLAY
Every so often I'll see someone praise the "elegance" or "simplicity" of OD&D. Whenever that happens, I think about passages like this and I laugh and laugh and laugh.
Here's how we've been playing these rules:
1 turn = 10 minutes = 10 rounds = 2 moves
1 segment = 5 minutes = 1 move
(This matches the definition of "segment" to mean 1 move, but obviously contradicts the definition of "segment" to mean 10 minutes. We picked this interpretation because having a second term synonymous with turn didn't seem useful, but there's potential utility in having a term that means basically "half a turn" or possibly "an interrupted turn".)
Speed is defined in inches according to the encumbrance table (which has its own interpretative issues, but let's ignore those for now):
1 move = speed x 10 feet
1 turn = 2 moves = speed x 20 feet
Running = double speed
Now comes the tricky question of how far you can move in a single round. The logic here seems pretty clear: A round is 1/10th the length of a turn, ergo you can move 1/10th as far. Which mean that total movement in a round is:
1 round of combat = speed x 2 feet
In practice, we say that people get two moves per round (just as you get two moves per turn), so:
1 round = 2 combat moves = speed x 2 feet
1 combat move = speed in feet
Further, we concluded that you could either move twice or move and attack, because why else would the rules give you two smaller moves instead of just one big move? There must be some reason why you can split them up like that. As an alternative solution, we briefly played with the idea of giving each player two "actions" which they could either use to move or attack, but eventually decided against it.)
How have others interpreted these rules?
HOLMES: Holmes's revision/clean-up of the rules in 1977 used the same values for turn-based movmeent. But he radically revised combat. The 1977 Basic Set states, "Each turn is ten minutes except during combat where there are ten melee rounds per turn, each round lasting ten seconds." (Or is that not a revision after all? Assuming that there's a "combat turn" which lasts for one minute and is divided up into 10 rounds of 6 seconds each would be another way of resolving the inconsistent use of the term "turn" in the OD&D manuals and supplements.) This has a minimal impact on how far characters can move in a single round, but the exact values are no longer calculable from the base values: "Movement (if any) is usually at a sprint; an unarmored man can move 20 feet per melee round, a fully armored man only 10 feet."
SWORDS & WIZARDRY: This retro clone of OD&D oddly chooses to explicitly contradict the OD&D movement rules by stating that a walking character (traveling at speed x 20 feet) cannot map or observe their surroundings carefully. It instead creates a new half-speed category where mapping is permitted. It also fails to provide any clarification of whether or not one can move and attack in a single combat round. It defines walking speed in a round as being equal to 1/10th walking speed in a turn, but it also defines a "combat" movement rate equal to 1/20th the walking speed in a turn (which would be equivalent to 1 combat move in my interpretation above).
(Looking through both Swords & Wizardry and Swords & Wizardry: White Box, I'm actually really surprised at how many rules they just make up out of wholecloth. Even more surprising are the number of rules which are just flat-out wrong. I often talk about how open to interpretation the OD&D rules, but S&W routinely ignores the stuff that isn't open for interpretation. And even some of the stuff that is open to interpretation is instead rendered in some completely different way lying far outside the gray area of the original rules. I just always assumed that the retro clones would look more like clones and less like cousins.)